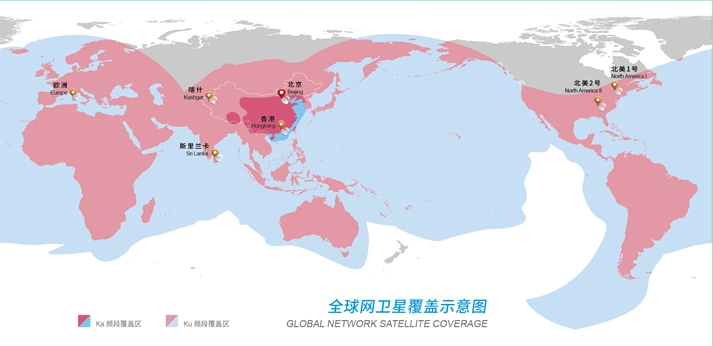 China Satcom, with its own satellite as a major capacity resource, built the Global Satellite Broadband Communication Network to provide communication and information service support to China's "Going Global" strategy and the "Belt and Road" initiative. "MarineTel" is a brand from its global network focus on maritime VSAT broadband satellite communication and information service. Maritel covers more than 95% of the global maritime routes in the Pacific, Indian and Atlantic Oceans. It provides integrated satellite broadband communication services including enterprise network, internet connection, ICT, audio and video transmission for shipping lines, oil and gas and global ports in order to realize the seamless connection between shore and ship (platform), and to achieve network connection with its integrated application for governments, enterprises and consumers.
Marine-based seamless high-speed network connection and communication: To provide customer with Marine-based seamless high-speed network connection and communication service by using more than 10 satellites with more than 10 satellite beams.
Maritime Information Management: To support maritime information management by providing vessel location, shipping route, communication status and satellite coverage from vessel monitoring platforms and providing live data of the status of the equipment on vessel and assisting the management team to adhere to standard and efficient management.
Production safety: To provide video monitoring service for government and enterprise on maritime operation and safety through stable video contribution and review from multiple angles; To support maritime safety by wearing one button smart band to realize live positioning and simultaneous alarm to terrestrial.
Emergency communication support: In emergency response, communication resources can be deployed immediately to support emergency response.
Efficient administration: To meet demands in conference, education and training from government and enterprise through live HD video conference; to improve efficiency between terrestrial and maritime through voice calling; to provide weather information service in the ocean through weather forecast.
Staff welfare: To improve staff welfare through ordered value-added service and streaming media on mobile phones, tablets and other devices.